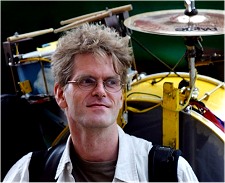 Hello !
I've been traveling the planet
as a one man band, singing and playing music, performing for world wide audiences,
on stage, on the street, on tv...,
taking my music to where the people are...

Being a one man band gives me the freedom
to improvise the arrangements of my songs spontaneously, and to jam with the crowd...

I'm currently in the process of updating this website, see how far I get...

In the meantime, I would like to call your attention to a fabulous book written on one man bands,
'Heads, Hands, and Feet' by Dave Harris.